WIPATH – YOUR EMERGENCY SERVICE SOLUTIONS PROVIDER
Emergency Services
WiPath Communications has developed a range of emergency services systems for wide area and on campus requirements.  We have provided solutions for critical messaging for over 20 years to emergency services worldwide.
Our range of unique products include:
Intelligent paging terminal devices
Vehicle and desktop display units
Remote control equipment
Paging encoders and transmitters
Software for message dispatch, logging, filtering and reporting
Remotely controlled LED displays
Wireless Siren Alert System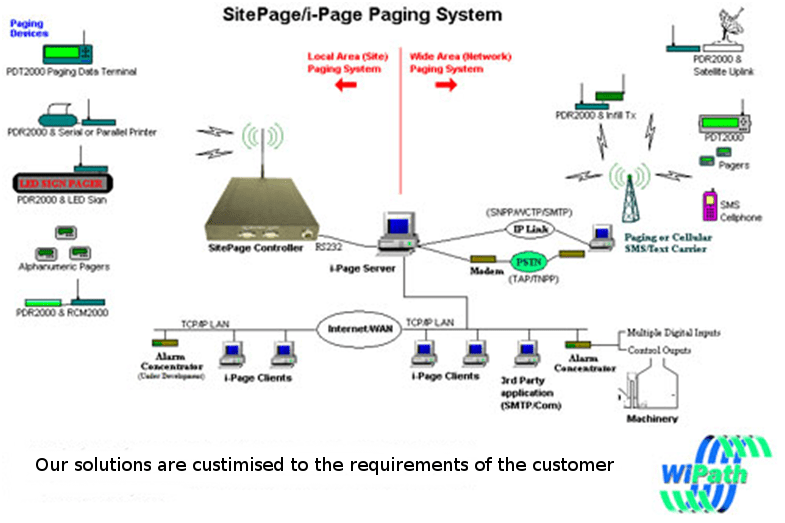 WiPath Communications has developed a mobile data system that consists of mobile data terminals and Gatekeeper mobile data gateway software.
Mobile data terminal WDT3000 enables the transmission of data from the back office to the mobile worker or fleet vehicle.
A single device can be used for job dispatch, messaging and vehicle tracking.
Mobile data terminal can interface to most wireless communications networks including conventional or Trunked mobile radio and cellular or satellite data modules.
PDT3000 Paging Data Terminal is a multi-function vehicle and desktop pager/paging receiver.
PDT3000 receives messages and displays them on a sunlight readable, large graphical LCD display.
The device is designed to be mounted on the dashboard of a vehicle or on a desktop.
The PDT3000 has multiple input/output options that enable it to:
Print messages directly to a parallel or serial printer,

O

output messages data via 1 or 2 serial ports,

Control relays using capcodes or messages,

Accept alarm inputs and retransmit when a transmitter (optional) is connected to it.
WiPath Communications offers a range of devices that enable the user to remotely control different equipment.
The RCM3000 provides 27 individually addressable relays including 2 mains relays.
RCM3000 relay control module can be controlled by any of WiPath paging or wireless data products such as the PDT3000, PDR3000 or WDT3000.
Multiple relay boards may be daisy chained (up to 2056 relays maximum) to create a highly flexible remote control system.
Individual relays can be controlled by: capcode, user selectable message text or using a standard message protocol.
SitePage is a low cost and flexible POCSAG onsite paging solution.
It sends alphanumeric and numeric paging messages to the local pagers.
SitePage is ideal for local area messaging on sites requiring the ability to contact staff by pager inside the facility.
SitePage encoder/transmitters may be activated by: messaging software (such as i-Page), DTMF phone interface  (allows numeric calls to be made from any phone extension), serial interface from alarm controllers, third party computer and alarm generating hardware (such as alarm systems).
WiPath offers a range of software applications for specialized messaging requirements: message dispatch, logging, filtering, rebroadcast and creating reports on sent messages.
LogPage is used to log pager message traffic over a POCSAG or Flex paging network directly to a PC or computer network. The program can filter messages by capcode, message text and combined.
Reports and auto reports can be created for any time interval
i-Page  is a communications software for the dispatching of text, SMS or email messages to a variety of wireless messaging devices. It consists of i-Page Server and different clients to control the server.
i-Page also has ability to send scheduled messages (hourly, daily, weekly, monthly).
The software can create reports automatically and send them, as an email attachment, to unlimited number of email addresses.
WiPath offers a range of indoor and outdoor digital LED signs that can display programmable moving text messages or numbers.
They can come with integrated intelligent paging receivers, which enables remote control of sign functions and message display.
Digital LED signs can be used for a wide variety of messaging and information purposes including campus emergency alerting and information display.
They are available in a range of sizes (from single line to multi-line) and lengths (from a few centimetres to many metres).
WiPath offers these text only LED signs with one or three colours display and in a range of resolutions and pitches.
WiLAS  is one of types of emergency alerting systems that WiPath offers.
It is a wirelessly networked, wirelessly activated, emergency alert siren system. It is designed for single or multi-building campus sites.
It does not require any interconnecting (backbone) cabling or a central control panel. Because of that it is less expensive and qiucker to install than traditional hard-wired siren or PA systems.
It can also be activated from anywhere on your premises by a security coded wireless remote control.
Tell Us About Your Requirements