WIPATH – YOUR MOBILE DATA HARDWARE & SOFTWARE PROVIDER
Wireless Data Network
WDN
The WiPath Wireless Data Network (WDN) is the collective name given to the combination of our mobile data terminals and Gatekeeper data gateway software.
The WDN provides the framework on which a very versatile and flexible voiceless dispatch system for mobile job management and field service automation can be created.
The Wireless Data Network, with a number of easily configured software tools, can be integrated into:
Computer aided dispatch system,
Job management system,
Logistics or maintenance management system .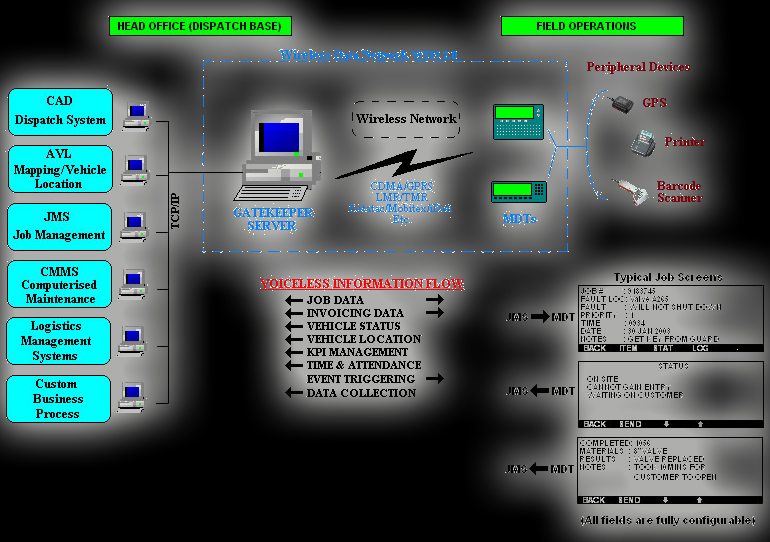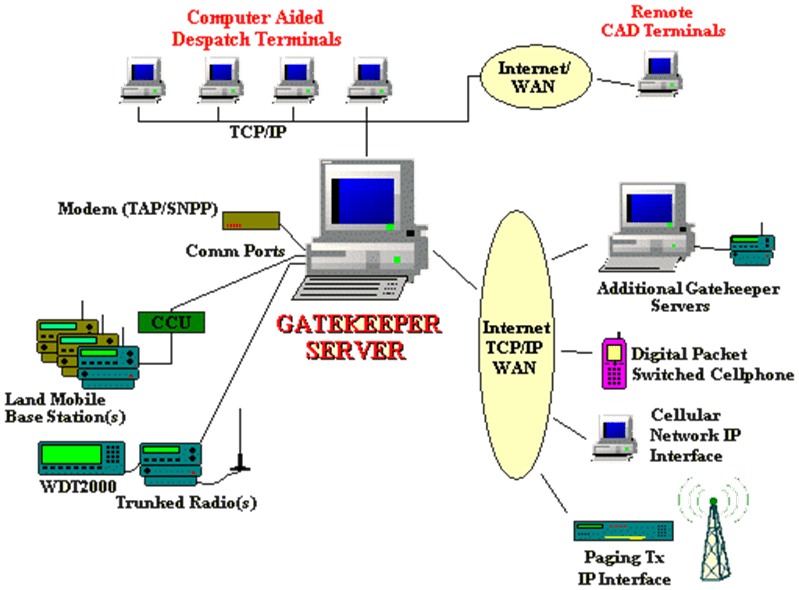 Wireless Data Gateway

– Gatekeeper

The Gatekeeper software is a central part or the WiPath wireless data network with the 2-way messaging,  job processing,  job status, GPS and personnel management capabilities.
It can process multiple jobs at the same time. Multiple job status stacks can be pre-configured and the initial status set in the job can even allow different status paths. Any status can be set to return data, whether as an option or compulsory, when selected status transitions are made. Returning job data allows for automatic updating of job data in the dispatch system.
Automatic Vehicle Location part can be set to acquire and transmit location data on separate time or distance criteria. Multiple geofence zones can be created in any shape. The system can be set to report zone crossings and even to automatically trigger status changes when the zone boundary is crossed.
A free form messaging capability allows two way messaging between the terminal and the base.
Job Processing & Management
Two Way Messaging
GPS Location (Automatic Vehicle Location)
Personnel Management
Terminal Management
Job Processing
Multiple Job Processing
Up to 100 jobs may be held in memory
Multiple Job Formats
Job display format can be changed with different job types
Multiple Status Trees
Vary the status tree according to the starting status
Job Return Data
Allows automatic updating of job data in the dispatch system
Terminal Initiated Jobs
Jobs may be initiated at the terminal
Job Data
Flexible Job Field Configuration
Multiple types of Job Field including Hidden
Variable Job Fields
Non configured Job Fields able to be sent with jobs
Job Location Field Type
Location of the job can be sent with the job to trigger auto status change and auto zone reporting on arrival at job
Job Summary
One scrolling screen shows summary of all jobs on MDT
Job Revocation
Jobs on MDT can be recalled and cancelled by the base
Job Sorting
The sort order can be set on the MDT to allow for prioritisation and efficient run management
Job Status Management
Multiple Status Stacks
Up to 32 different statuses may be configured with the initial status set in the job to allow different status paths
Two Way Status Paths
Statuses may be repeated
Return Data on Status Change
Send return data when selected status transitions are made
Honour Return Field Requirements
Force return data to be completed on selected status transitions
Send And Clear Log
Send the job log or clear the job log on status transition
Auto Status Changes
Force status changes on certain criteria including job location reached and triggering of external inputs
Status Changes Restrictions
Enable status transitions to occur only if other statues have already been reached
Messaging
Messaging Function
A free form messaging capability allows two way messaging between the terminal and the base
Return Data
Return Data Fields
Data generated as a result of a job can be entered on the terminal to return to the base dispatch centre
Multiple Return Data Field Types
String, numeric, float (decimals)
Return Data Field Restrictions
Force entry of data of fixed length or between fixed values
One Shot Return Fields
Return fields that only appear if certain statuses are entered
Multiple Entries In One Field
One shot field allow for multiple entries to be entered in the same data field by transitioning the status several times e.g. if parts and quantities are listed
GPS Management
Automatic Vehicle Location
The terminals can automatically and separately acquire and transmit location data on separate time or distance criteria
Base Polling Allowed
The base can separately poll the vehicle for its location
Geofencing
The terminals can hold up to 32 geofence zones which may be setup either as polygons or as point and radius zones
Multi-layer Geofences
Overlapping geofences with layer criteria allow different status and alarm notification
Geofence Zone Display
Current zone can be displayed on terminal
Geofence Boundary Reporting
Zone crossings can be reported
Geofence Status Triggering
Status changes can be triggered by zone boundary crossings
Job Zone
A job location can be sent with the job to create a temporary geofence and report arrival at location
Personnel Management
Terminal Logins
Primary user must log on terminal user ID
Login Data
Special data may be gathered at login and log off such as mileage
Multiple Logins Permitted
When more than 1 operator needs to be recorded, multiple logins are possible, with logins and logoffs allowed at different times
Terminal Management
Admin Screen
The Admin screen on the terminal is where communications parameters, initial mileage etc. are entered
Password Control
The Admin screen may be password protected to prevent user access
Tell Us About Your Requirements