YOUR FUEL PRICE LED SIGNS PROVIDER
Petrol, Diesel & LPG Fuel Price LED Signs
WiPath offers a wide range of fuel price LED signs for petrol and diesel price displays.
Because of their high brightness service station LED pricing signs can be read in any lighting condition day or night. The fuel price tiles LED display also has eight levels of automatic intensity adjustment.
Petrol & diesel price LED signs can display several digit formats with the decimal in any position:
8.888 (888.8)

8.889  
8.88 9 ⁄ 10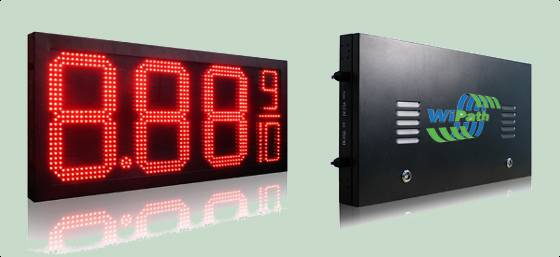 Petrol, Diesel, Gas Price LED Tiles

WiPath offers fuel price LED signs that are extremely visible from long distances.
Service station petrol price LED signs are available in red, yellow, green, blue and white.
Improved controller design with easy to use handheld remote control, centralised head office control or interfaces with third party systems.
We offer service station pylon price tiles with character size: 8" (203.2 mm), 10" (254 mm), 12" (304.8 mm), 16" (406.4 mm) and 24" (609.6 mm).
The characters can be displayed in 2, 3, 4 or 5 lines.
Customised face designs
Ultra-thin metal cabinet
High brightness
Auto dimming by sensor
8 levels of automatic intensity adjustment
Colours: red, amber, green, blue or white
Digit height from 4" (101.6 mm) to 60" (1,524 mm)

Integrated "8" digital PCB board
Height
Model
Number format
Character Size
Dimensions
Voltage
Weight
Lines
8"
GLG-8inch8.888-Red/Amber/Green
8.888
203.2 mm

H 293 mm
W 623 mm
D 60 mm

R/Y:20 B/G/W:22
6.5 kg
2
GLG-8inch8.888-Red/Amber/Green
8.889
203.2 mm
H 293 mm
W 590 mm
D 60 mm
R/Y:18 B/G/W:20
6 kg
2
GLG-8inch8.88 9/10-Red/Amber/Green
8.88 9 ⁄ 10
203.2 mm
H 293 mm
W 590 mm
D 60 mm
R/Y:18 B/G/W:20
6.2 kg
2
10"
GLG-10inch8.888-Red/Amber/Green
8.888
254 mm

H 374 mm
W 784 mm
D 60 mm

R/Y:24 B/G/W:28
8 kg
2
GLG-10inch8.888-Red/Amber/Green
8.889
254 mm
H 374 mm
W 784 mm
D 60 mm
R/Y:22 B/G/W:25
7 kg
2
GLG-10inch8.88 9/10-Red/Amber/Green
8.88 9 ⁄ 10
254 mm
H 374 mm
W 784 mm
D 60 mm
R/Y:21 B/G/W:24.5
7.8 kg
2
12"
GLG-12inch8.888-Red/Amber/Green
8.888
304.8 mm

H 400 mm
W 944 mm
D 60 mm

R/Y:42 B/G/W:44
12 kg
3
GLG-12inch8.888-Red/Amber/Green
8.889
304.8 mm
H 400 mm
W 836 mm
D 60 mm
R/Y:35.5 B/G/W:37.5
9 kg
3
GLG-12inch8.88 9/10-Red/Amber/Green
8.88 9 ⁄ 10
304.8 mm
H 400 mm
W 836 mm
D 60 mm
R/Y:35 B/G/W:37
9.5 kg
3
16"
GLG-16inch8.888-Red/Amber/Green
8.888
406.4 mm

H 507 mm
W 1224 mm
D 60 mm

R/Y:64 B/G/W:52
18 kg
3, 4
GLG-16inch8.888-Red/Amber/Green
8.889
406.4 mm
H 507 mm
W 1077 mm
D 60 mm
R/Y:53 B/G/W:44.5
16 kg
3, 4
GLG-16inch8.88 9/10-Red/Amber/Green
8.88 9 ⁄ 10
406.4 mm
H 507 mm
W 1077 mm
D 60 mm
R/Y:57 B/G/W:49.5
16.5 kg
3, 4

24"
GLG-24inch8.888-Red/Amber/Green
8.888
609.6 mm

H 710 mm
W 1771 mm
D 60 mm

R/Y:112 B/G/W:80
26 kg
5, 4
GLG-24inch8.888-Red/Amber/Green
8.889
609.6 mm
H 710 mm
W 1564 mm
D 60 mm
R/Y:94.5 B/G/W:71
24.6 kg
5, 4
GLG-24inch8.88 9/10-Red/Amber/Green
8.88 9 ⁄ 10
609.6 mm
H 710 mm
W 1564 mm
D 60 mm
R/Y:102 B/G/W:76
25 kg
5, 4

Petrol Price LED Signs Control Box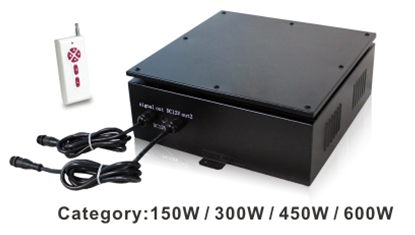 Petrol Price LED Signs Remote Controllers
(Optional)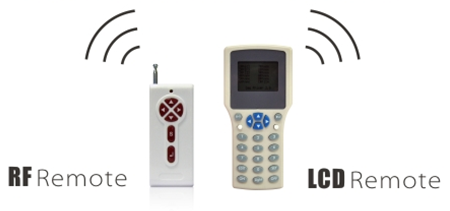 Tell Us About Your Requirements